I've worked with some terrific actresses this year and I wanted to write a post about the showreels we've created.
Showreels for actresses are a really interesting thing because — you tend to find that a huge number of female actors are competing for a very limited number of roles in the industry. I treat my showreels the way I hope all larger projects would be treated – I try to write dynamic, interesting roles for women.
I try to find the right balancing act. I write strong female characters — that doesn't mean there won't be an occasional scene where a character is more passive, or playing a more traditional 'girlfriend' role, it just means, I work hard to produce more than just that. Every actor is unique – and a showreel is a great way to bring out the individual traits of each person I work with. Every scene you see is written, directed and edited by me.
MARIAH MEAD and IONA ANDERSON
These two actresses are remarkable when you consider their ages. At the time of filming Mariah was 16, Iona 18, and these reels were their first experiences on screen.
Getting subtle and believable performances out of actors who are so young and dare I say inexperienced can be a very tough thing. But Mariah and Iona are both very dedicated, very talented actors. I am proud of the reels we created because they both show the personalities of the actors. Mariah may only have been 16, but she has great maturity and power on screen. The same goes for Iona, a Scottish actress with great presence.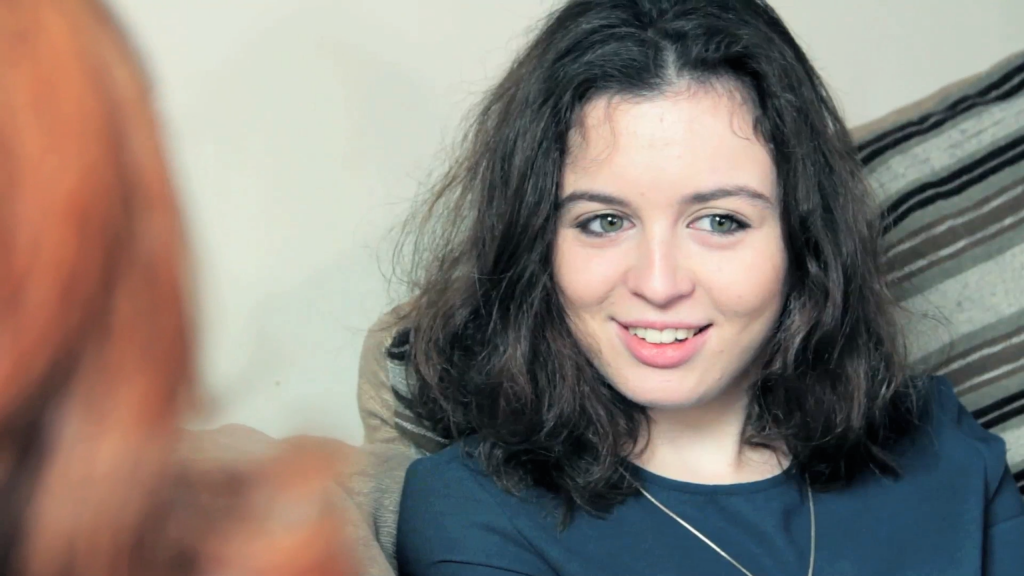 I know actors who've been in the industry for ten years and have not had reels with as strong a performances as these. I am really hopeful that these girls are going to have great careers.
LEONIE CARPENTER and CHARLOTTE JORDAN
The main point of the initial showreel meetings are for me to get a sense of the client – to figure out who they are and what scenes would suit them. Actors tend to come with various ideas about themselves; from their own intuition, to the thoughts of their teachers and agents, and they also usually hope that I have a few ideas myself.
The showreels that work out the best are the ones where I get a clear sense of who the actor is – and I feel I had that with Leonie and Charlotte. Leonie wanted to do lighter, quirkier scenes; and I think you will see that when you look at her reel; but she is also very good with more emotional material – which you'll see in the break-up scene on her reel. What I love about it is the subtlety — there are no big histrionics, just a guy and a girl talking. It's easier said than done and she nails it.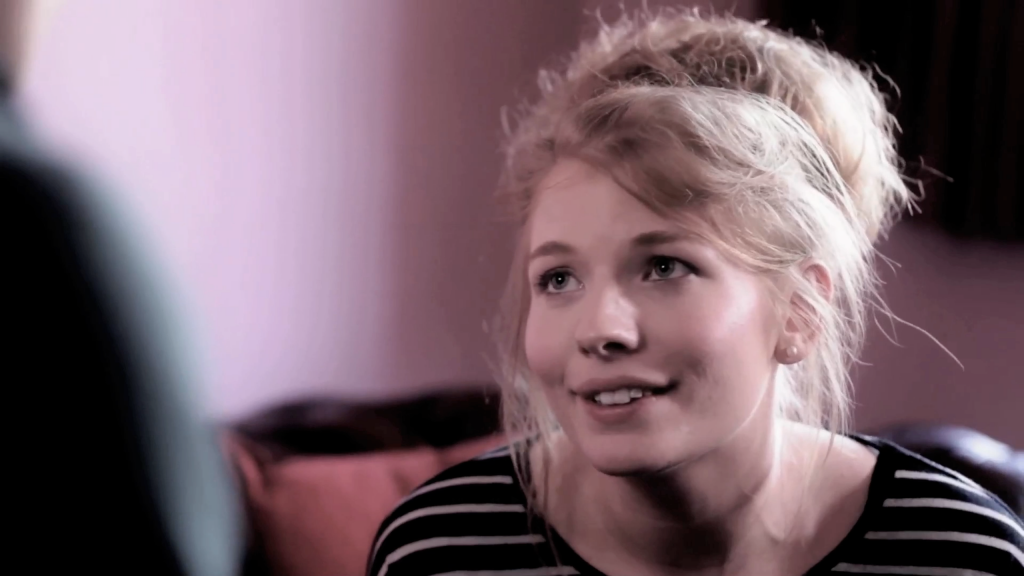 I've mentioned Charlotte Jordan in a heap of blogs already so I won't keep going on because the girl may get an ego problem. So for now I'll just say I think she's a great actress (she's the lead in my next film) and I think she has a really strong reel and I'm confident she's going to have a great 2016.
AMY ALLEN and RACHEL KEYS
In recent years the type of actors who come to me for showreels from scratch have changed. At first it was mostly new graduates – but now it is just as common for me to work with highly experienced pros who have been in the industry for a number of years.
Amy and Rachel are both top actors with a great deal of experience, who felt that their previous showreels never quite did them justice. Too many actors are in the position where they're applying for jobs by sending out showreel samples that make them cringe.
Being confident in your material is essential. Working with Amy and Rachel was a blast because they're both confident and experienced actors who know who they are and what they can do. I worked with them to specific casting types that showcase their abilities.
How I Decide What to Write
The reason I write every scene, unique for each actor, is that I believe the key to making a good showreel is the material. Without a good, original script, you may as well forget about it. If an actor needs to work hard to save a bad script, then there's going to be too much energy going in the wrong place.
With that in mind – the exciting thing about each new client is the possibilities that they bring. The script below is a sample from Rachel Keys's showreel. During our meeting, we both found that we had a very similar taste in TV and film, and more specifically; in the type of acting that we like.
Although Rachel has an Essex accent, we wanted to steer clear of the stereotypes. In my opinion, her Essex accent is enough alone to show that she can "be Essex," therefore we were free to focus on other, more interesting aspects of who she is as an actor.
Her previous reel didn't have anything natural and truthful in terms of material; and therefore when we watched her acting there wasn't anything that showed us who she really is.
So I wrote the scene below. And I love what Rachel did with it (go back and watch her reel after you read this – she's brilliant).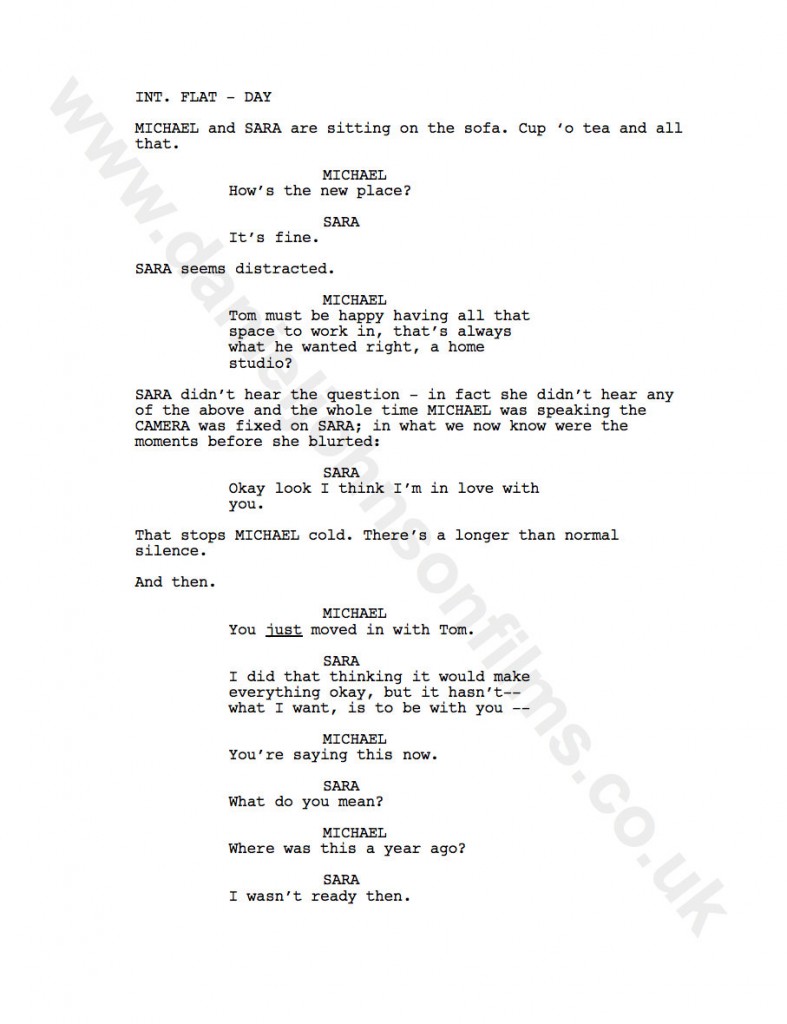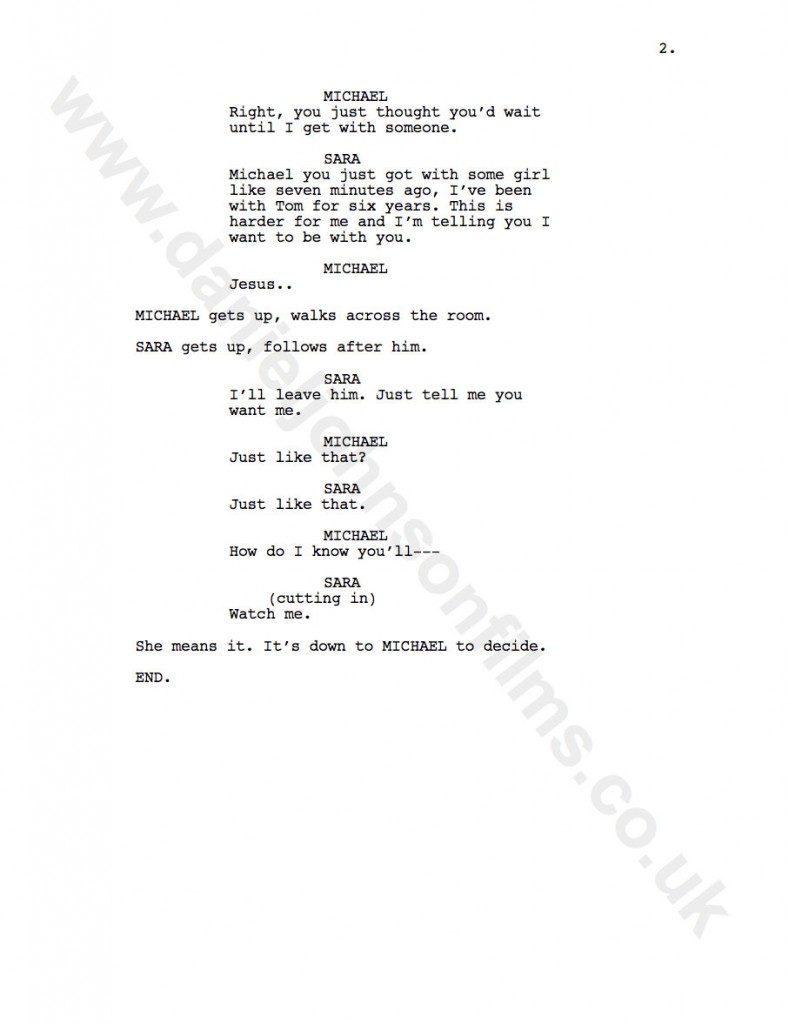 A few days before the shoot I sent her a message suggesting we switch the location and shoot in my office – something which I'm glad we did because I think them being colleagues added an extra dynamic to the scene.
If you are looking for a new showreel to kick off the New Year, please get in touch, it'd be great to hear from you.
Showreels from Scratch Page. 
Email Me: dj@danieljohnsonfilms.co.uk
Twitter: @DanielJohnsonUK