What does your showreel from scratch service entail?
I write scenes specifically tailored to your abilities and casting type. My goal is to create the material you wish you'd amassed from independent and student films but were never able to.
You mention casting type, which I hear a lot, but what exactly is that? 
Good question and I don't totally know exactly, but what I do know is that there are certain roles you can play that totally suit your look and abilities, and they're going to be your most direct route to being a working actor. I try to focus on what that is, and then build scenes around what suits you naturally.
Where are you based?
East London. Kinda the Essex borders. I say London though, but some would disagree.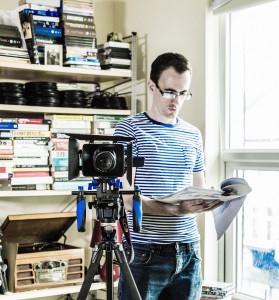 Who ARE you exactly and why should I trust you? 
I'm Dan. I've been writing and directing since I was sixteen. You should trust me because I am one of the leading creators of showreels in the industry; actors who've collaborated with me have gone on to do lots of TV and film work – I have also written about the industry for Raindance and the Huffington Post.
In 2016 I created showreels for an entire year group at Guildhall School of Music and Drama and I am due to do the same this summer.
Outside of showreels I created numerous short films, many of which have been in film festivals, and I've written commercials for Bose Headphones and Skype – I've made films in various countries, like the USA and Poland.
Also I'm an avid tea drinker and you should always trust a tea drinker.
Here's a video of me talking about showreels:
What happens in the initial consultation?
We chat! You tell me a bit about what you've done previously and what you'd like to do. I'm like a showreel therapist, trying to work out what has been missing and what you need to have a fully functioning, healthy showreel!
Will I be offered a cup of tea when I come in for a meeting?
You will be offered a tea or a coffee. Teas include: black, green, lemon and ginger and fruit teas. Non-dairy milk is also available upon request.
Should I prepare anything before the consultation?
Just bring yourself and we'll figure it all out.
Can I split the cost with friends/my partner who is also an actor?
Potentially yes, but in my experience this works better as a solo investment where we focus entirely on you. You might decide to bring other actors in to be in the scenes, but I'd recommend focusing on it being about you.
Not entirely sure why it is, and maybe it's something to do with my own methods, but when actors chop the costs in half and share a scene in that way, it rarely seems to work as well. It's not always best to kill two birds with one stone; it's better to just kill one bird dead meaning you get the job done properly (apologies for turning a lazy metaphor into a very real sounding instance of animal cruelty, which I do not condone).
How much does it cost?
Prices are here.
Do you offer discounts?
No.
How Does Payment Work?
Half at the beginning, half after the filming day.
How do you differ from other showreel companies?
I would say that what I do is very specific. I write all the scenes myself and I personally will be the guy directing you.
The key strengths of my work are the writing, and also my comfortableness in directing actors and making them feel relaxed on the set. There are other showreel companies who shoot on bigger cameras and go for a more cinematic look; whereas my process is directly focused on writing you scenes and then directing your performance to make you highly employable.
Is there any reason you won't work with me?
Sometimes things just don't click. We all have different ways of working and if, after our initial meeting, or perhaps as we begin the script stage, if things aren't flowing between us, sometimes it's best to have a hasty but polite break-up. It's rare but it happens.
How far in advance do I need to book?
Good question and it completely varies. Also this year I am travelling a lot so if you leave it too long you may find I am not around to do the work, so make an enquiry as soon as you're ready.
The writing.
How will you personalise the scripts to suit me?
It comes from meeting you and getting to know you a little. The scripts are tailored to suit you but also, I am creating characters which it is your job to embody. So it's not always about making everything easy and simple for you. It still takes work to find the character.
Can we use scenes that I bring with me?
I write all of the scenes that I shoot. If you want to use your own material I recommend working with literally any company aside from mine because, so far as I'm aware, they'll be happy to shoot whatever material you bring to them.
Can I rewrite your scenes?
If a scene I've written doesn't work for you, then email me back your thoughts/concerns, and I'll address them. If you're feeling the need to change the script that's usually a sign that a) you're not understanding part of it, or b) You feel insecure about the delivery/performance of it, c) I've written a bad script.
If I've written a bad script, then the way to fix it isn't to rewrite it, we'll ditch it and I'll work harder on the next one.
The filming.
Do I provide the actors, or do you?
Either way! I'm lucky in that, having been doing this for so long, I am surrounded by fantastic actor friends. Likewise, if I write something and you think it's perfectly suited to your friend, then by all mean let's use them.
Where will we be filming?
Often it's my flat/office. Sometimes I nag my parents and friends to film at their places. Also occasionally I shoot a few reels in one day and rent a location for it. Plus I'm also happy to travel to you if it's possible by commute.
Can we shoot outdoors?
We can but I mostly don't. There are so many possible things that get in the way — wind, rain, random people, noise — which makes outdoor filming about so much more than the acting. My preference is indoors. The key thing with a showreel is; how is your acting in a close up?
Can we film in a pub or cafe to make the locations more interesting?
If you can get permission. But it needs to be before opening/after closing and we need to be able to control the environment, which is not always as easy as it seems.
How long is the filming day?
On average about 1.5 hours per scene.
Will you direct me? 
Yes, absolutely! For me that's the whole point! Sometimes I meet actors who've shot with showreel companies and they say they didn't get any direction at all – and that really infuriates me!
I love working with actors and I will work hard to bring out a strong performance in you.
The Edit.
How does the edit work?
When we finish filming, I go away and edit it! Then I show you a rough edit, and if you're happy, I send you the file. If there's something you're not sure of, we'll talk it through and see if we need something else from the rushes.
Can I add in other material?
Sure, send it to me before I start the editing process! I can only edit from finished products, not from other filmmaker's lazily unfinished rushes!
How many edits will you do?
I'll do the first one which is what I think your reel should be.
Then if there are any issues, I'll do one edit to correct it.
What happens after you've finished my reel?
I send you the file then you're free to upload it to Spotlight, Casting Call Pro, Youtube and wherever else!
Information about my Showreel Service.
Email Me: dj@danieljohnsonfilms.co.uk
Twitter: @DanielJohnsonUK