New Ryanair Prices and Guidelines for 2013
In keeping with their commitment to being a low-budget carrier, Ryanair have made some subtle changes to how the airline works, and I will now set out to explain in detail.
The rumours are true, they will begin charging people to stand during flights. All passengers will be forced to remain seated for the duration of the flight, meaning that any standing up — for any reason, at any point during the flight — will incur a £5 charge. This will be complicated by the fact that Ryanair will also begin offering 'in flight aerobics' to combat the rise in deep vein thrombosis. It will cost £10 to take part in the aerobics, and £15 not to. The 'standing fee' will still apply after landing, which means that if you wish to leave the aircraft for free, you will have to do so by crawling.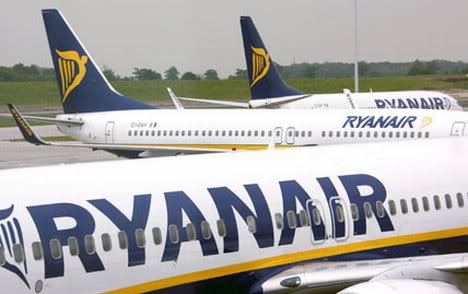 Ryanair have faced thousands of complaints in recent years about hidden charges and costs. They have now decided to be more transparent about pricing, meaning you can ask the flight attendant to explain the fees to you, but only if you pay them £22 and agree to rent a Volvo.
Other changes are subject to approval by the EU and aviation authorities. These possible changes are, according to Ryanair's Vice-Chief Executive Brian Rippov, "aimed at giving our customers more choice". These include plans to make certain things "optional", such as seating, safety gear, and trained pilots. "Pilots are expensive," mused Rippov, "and it will be down to the passengers to decide whether they want to pay for one."
The controversial airline are also branching out into more locations, with a planned 'New York' landing spot, which is actually nearer to Wisconsin than Manhattan. This is a common practice from Ryanair, whose airport locations and hotels are rarely near where they are advertised. In 2008 they promised to clean up these discrepancies and even agreed to make sure more of the hotels have beds in them.
In 2014 Ryanair are rumoured to be considering additional 'optional charges', but only as a way of making things cheaper and easier for the customers. One of the key things on offer may be 'Flights for £5, in wingless aircraft'. This is the latest innovation by the company, who will be utilizing many European roads and fields as an alternative to taking to the skies. "It helps us keep things safe," said an insider from Ryanair, who were rocked recently by a Daily Mail poll which showed that 72% of people would rather "have a mid air collision in a British Airways plane than have to buy a Ryanair scratchcard".
More news soon.
If you like this, would you mind sharing it?