All New SHOWREELS FROM SCRATCH Scene Samples!
My life this past year has been one of almost continual writing, directing and editing. That's an exciting sentence for me to write because: it's pretty much all I've ever wanted to do. And now I get to do it for a living.
And in the back of my mind is always this fear, what if I burn out? What if the ideas stop coming? But what I've learned is that, when those things happen, it's a good thing – it means I need to dig a little deeper, work a little harder.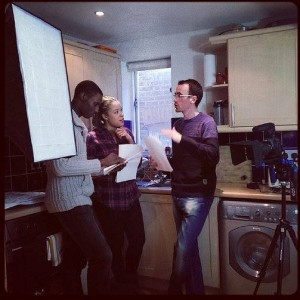 Which is why I'm so proud of the showreels I've been producing recently. I am in a very lucky position that I get to mix with actors who are both established and upcoming. Often the only difference between the two are the amount of years they have in the acting bank.
But they're all heading somewhere, and I get to be a part of the journey.
What I endeavour to do with every single showreel I create from scratch is write each scene, direct the actors the same way I would a film, and then fight my way through the takes finding the very best edit that is possible.
Have a watch of this because there is some great acting on show from talented upcomers like Warren Jason Carling and Claire Marlein, to established actors like Jimmy Flint (Lock, Stock and Two Smoking Barrels) and Matthew Ganley (Once the Musical).
I didn't want to put together a flashy reel zigging back and forth. I wanted to create a piece that lets the scenes breath – everything you see has been created in the past three months!
If you like this, would you mind sharing it?