In Memory of Robin Williams
This is why you become an artist. To capture something about life and then put it out there. If you're good, maybe you change someone's day. If you're great, maybe you change someone's life.
It's not that Robin Williams was just great, he was a genius. And genius is fragile. His career covered in hilarity and pain. His humour punctured with sorrow and his sorrow somehow poignantly uplifting.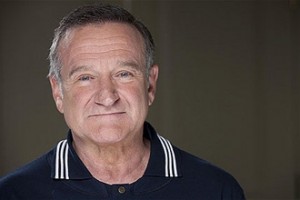 I think the very best artists are the very best artists because they nail what it is to be alive in a way we've just never quite seen before. If a year from now you read some dumb article claiming someone is 'the next Robin Williams', put the thing down, turn off your laptop; because what you're reading is stupid – there will only be one Robin Williams. Nobody else will ever capture the things he captured.
I remember him telling Will Hunting "you've never looked at a woman and been totally vulnerable" and I remember Patch Adams standing on the mountainside questioning the point of existence and I remember Euphegenia Doubtfire.
And just like you I wish we'd got another ten Robin Williams films but life is never like that. The artists swing by, sprinkle their magic and then off they go and it's goodbye.
It warms my heart to know there's more to come, projects that nobody has seen. I was lucky to see 'Boulevard' earlier this year – a small movie where Williams' character struggles to come to terms with his sexuality, and it's his most touching performance ever, it'll break your heart.
And if you didn't see the show 'The Crazy Ones' go back and watch it because it's Robin at his frantic comedic best.
If you ever heard Robin's interview on Marc Maron's WTF podcast, you probably feared this day would come. We rely on the comedians for laughs but more often than not, they're the saddest ones around.
Robin Williams is a legend. I won't pretend to be his biggest fan, because you love him as much as I do. All we can do now is mourn the loss of one of the great actors and comedians of our times – and then we can go back and watch his works again and again and again. Thank you, Robin, and Good Morning, Vietnam.
If you like this, would you mind sharing it?