In Memory of Andy Evans
He gave me my dream job. I got to work in a video store!
And we didn't quite realise at the time, that forces were working against us. The internet was changing how we watch films — DVDs were being posted through doors and somewhere far away Netflix streaming was being invented. The video rental store was being consigned to history.
But Andy wouldn't go down without a fight.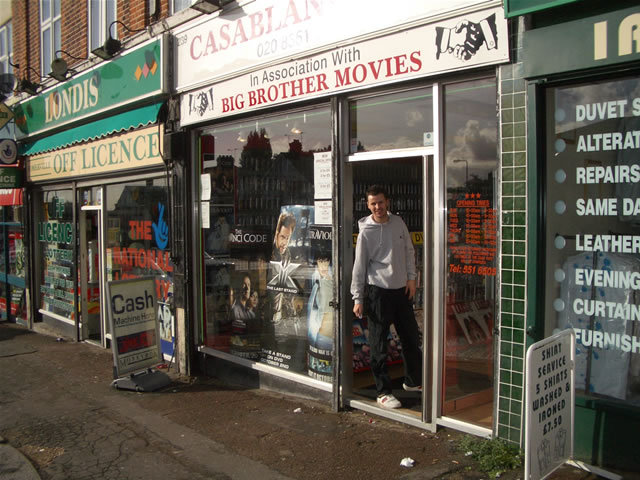 Video rental stores were closing down rapidly for years, but Casablanca Video (which Andy renamed to Big Brother Movies) outlasted most of the others. It survived because it was a community, one of the last great places where you could go just to hang out, just to chat about films, or football, or anything else.
I saw Andy far less than I should have in recent years. But each time I saw him, regardless of what was going on in his life, he was enthusiastic and funny and a joy to be around.
And he loved his family. Loved his kids. Loved bumping into the old regulars he'd served so consistently for a generation.
And losing Andy is like when we all lost Casablanca Video, but of course, worse. A big piece of the furniture of where we grew up is now gone. How rare in this modern age to bump into someone who is genuinely delighted to see you and to find out everything you've been up to.
So much of who I am is tied up in the memory of that shop, and of Andy. I was a film-renting junkie, and he had all the gear.
And then he let me WORK there! Tuesday nights were mine. When it was busy, I got to talk all night about movies with people who loved them as much as me. And when it was quiet, who cares! I was surrounded by endless films!
Nothing lasts forever. But while the video shop came to an end at the right time, the loss of Andy is hugely premature and will hit a lot of people, hard.
RIP mate. You will be remembered.
—
Below is an article I wrote in 2010 for the local paper, The Ilford Recorder, which shared many of the same sentiments as I've shared above – and is another reminder of the great guy Andy was.
The Day The Movies Died
I am a screenwriter and a director. I've been passionate about films all throughout my life. Precisely why it's become so important to me is hard to say. But one thing is for sure; the Casablanca Video rental store had a lot to do with it. I remember being ten years old and saying "Mum, I want to go out!" She didn't have to worry, I wasn't hanging out with gangs or getting into trouble, I just wanted to rent movies. As everyone from the area would undoubtedly remember; the owner, Roger, would be there to offer his recommendations (and criticisms) with the latest releases. There was something different about this place. They actually wanted you to be there. Roger, and his staff, would never just recommend any old title just for a sale – they would take the time to talk about the ins and outs of the movie. I loved it.
And then Roger left. Luckily for Casablanca, Andy Evans, who had been employed there since the age of 15, decided to buy the business. What followed was a strange paradox; the shop hit it's peak in terms of service and value to the community, but began fighting a losing battle as internet downloads, LoveFilm and piracy were to take over the business. Meanwhile, throughout my mid-to-late teens, I continued to be a regular. "I'm going out, Mum" I'd say. She'd hope I was meeting friends, or meeting my future wife. Nope, instead; I was renting movies. My passion for cinema was matched by Casablanca Video, who were able, incredibly, to outstay the likes of Blockbuster Video in Ilford and the smaller competitors in Gants Hill and Collier Row. It's important to remember how they survived and flourished for a lot longer than the other stores. Casablanca stood for something we are seeing less and less of these days; small business, integrity, community. Here is a place where you could talk for hours to staff about movies, argue about whether Tom Hanks' greatest movie was 'Forrest Gump' or 'The Green Mile' – and if you were lucky, you might even get Andy to make you a cup of tea.
Touchingly, after the sad death of his Brother; Andy rebranded the shop as 'Big Brother Movies.' To the uninformed, it may have looked like he was trying to cash in on that dire Channel 4 show. But the reality was something far more personal; and yet again, indicative of the family business that Casablanca Video always was and will always be remembered as.
Of course, having been a regular for most of my 25 years, I became good friends with Andy, often helping out when he was short staffed or when he was rearranging a display. It was something I always wanted to be involved in. The shop had something about it that I craved — a passion for movies, a family environment, and integrity. As Andy shut the doors of Casablanca on Saturday 24th July after twenty-four years in business, I was very aware of what we were all losing. We were losing a big part of Clayhall. I was losing a part of my childhood. The days of running down to the shops all excited about a new release, or bantering with the staff over our differing film tastes; these days were gone. As Andy, myself, and a few of his close friends boxed things up and dragged them out of the store on Saturday; there was a strange sadness in the air. The idea of 'renting a movie' is now something entirely different. No longer can you take a leisurely stroll to the shops to pick up the latest action flick. The times have changed.
Casablanca Videos/Big Brother Movies, will be remembered as the last stand of the independent video store. They outlasted everyone else and did it in style, staying true to their small business, family-friendly roots.
If you like this, would you mind sharing it?