The 2013 Showreel Of My Acting Showreels
Once a year I put together a showreel for my service, imaginatively titled 'Daniel Johnson's Acting Showreel Service'.
It does what it says on the tin. I create showreels from scratch for actors. I primarily work in London but am able to travel across the UK and even Europe and beyond if you have the budget for it!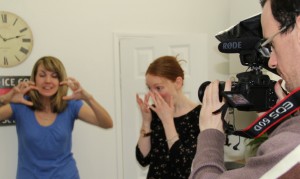 I began creating showreels a few years back for my friends who were desperate to get new footage. They never seemed to get footage back from the filmmakers they worked with – so they were always desperate for content.
It grew from there –  I am now one of the leading creators of acting showreels in the UK. I say this not to impress you but to impress upon you my dedication to the craft. It is my goal to write scenes in a very specific way that will give actors exactly what they need to push them onto the next level. That level might be getting a new agent, or landing a first film role – who knows! Tell me what your goals are as an actor and we can work towards them.
Here is some recent footage from my showreel shoots.
I have written many articles on the art of making showreels – I am sharing a few below. Have a read if you are interested in the topic!
11 Tips For Creating A Memorable Acting Showreel.
The Complete Guide To Acting Showreels.
My Acting Showreels From Scratch Service – How It Works
If you would like to contact me to discuss working on your showreel, or if you need some advice. Feel free to write to me at dj@danieljohnsonfilms.co.uk, or tweet me: @DanielJohnsonUK
If you like this, would you mind sharing it?