WE HAVE SOMETHING – A Short Screenplay By Daniel Johnson
I thought you might enjoy reading one of my short film screenplays. It's a way of avoiding work for ten minutes and a good alternative to browsing Facebook. 
This is a screenplay I wrote a few months back called 'We Have Something'. It's about an inter-office relationship between the 46 year old boss, LAURA, and a 21 year old from the mail room, MICHAEL.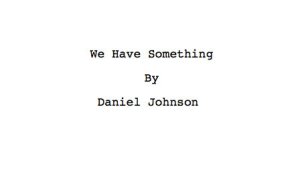 It's a nice slice of rom-com, and it all takes place within 9 pages! It will give you a good idea of what my films are like when in script form. I often say to my friends that I think I am a better screenwriter than director. In directing, I think I have certain skills; but in writing, I am after expertise. That's my hope. 
You can download the script HERE. Let me know what you think! 
If you like this, would you mind sharing it?