New SHOWREEL FROM SCRATCH Example, REBECCA CALANDRO
Rebecca Calandro is my type of actor; talented, ambitious, dedicated, and absolutely incapable of waiting around for things to happen.
She was living in Australia when she first got in touch with me. Said she was moving to London and that she wanted to do a showreel from scratch with me. We had a few chats over Skype so that I could get a sense of who she was and what she could do as an actor – and then I wrote the scenes.
Two weeks after Rebecca landed in London we shot her showreel. By her third week in London her reel was completed and ready to send out to casting directors and agents.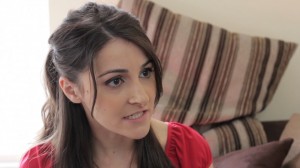 I am very happy with this reel – because I feel it really showcases who Rebecca is and what she can do. The comedic scene shows a fast-talking, crazy character, which is like an over-the-top version of Rebecca herself (she's not quite that crazy). The lawyer scene shows how she can handle chunks of dialogue with ease, and how despite her youth she's able to come across with authority.
And it's perhaps the break-up scene where she excels the most. 'Break up' scenes are always tricky when you're creating a showreel, because they can so easily be over the top, soap operatic – but here Rebecca (along with David McLaughlin) create performances that resonate, that feel truthful. What I love about Rebecca in this scene is how understated she is. There's no 'acting', there's just a girl telling a guy she's leaving him.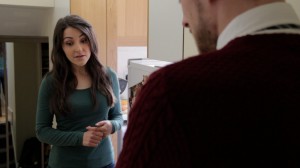 A showreel from scratch means that you don't need to wait for years and years for an opportunity to show people what you can do. It's an investment you make in your own career whereby you get to act in scenes that are carefully crafted to show who you are and what you can do.
Take Rebecca. Two weeks ago she was, as far as the industry was concerned, just another twentysomething actress in London. Now she's got a high quality reel which proves her acting ability in a variety of different roles.
Click on the following link to find out more about my Acting Showreels From Scratch Service 
Email Me: dj@danieljohnsonfilms.co.uk.
Tweet Me: @danieljohnsonuk
If you like this, would you mind sharing it?