The Story Of 'Emilie and New York City'
I hadn't been to New York in so long. Three years. It doesn't sound like a long time but once you've fallen in love with New York City, nothing else really matters.
I was dying to go back and dying to go back and dying to go back, and then there I was.
But three years had gone by. And the cafe where I used to get my morning tea was gone. And Caffe Reggio had changed the recipe of my favourite dessert. And a bunch of friends had moved on to LA, and some of the ones who'd stayed in NYC, they just didn't seem as keen to see me anymore.
And I bumped into a girl I'd known three years ago, and I just didn't seem as keen to see her. There was no reason for that, it's just how I was feeling.
I was struck by how, just when you think you know a place, or know what you're feeling, everything changes on you.
I was desperate to shoot a film in New York again. But what? I didn't know. When you're desperate for ideas, they're much harder to come by. And then I let go of that urge to create something, and just went about loving my favourite city.
I was on the M train, heading back to my friend Keli's place in Queens where I was staying, when I was hit by a feeling; a feeling of longing for something, some kind of Manhattan that wasn't even there anymore.
I wrote the script in five minutes on that very train journey. And by that I mean — I mapped out all of the dialogue parts, the narration. Later that night I put it into screenplay format.
You can read the screenplay HERE.
Meanwhile, I was due to meet with an actress called Chelsea Watts. We have a mutual friend called Samantha, and she urged us both to meet. Incidentally, I know Samantha because of another friend, Betsy; one of those who moved off to LA in the years I was missing from Manhattan.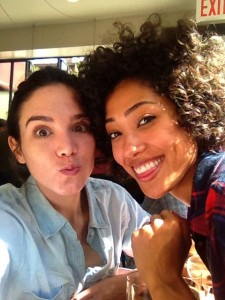 Samantha and Chelsea.
(who have a habit of sending me silly pictures when they're together, which makes me miss New York even more)
I cast Chelsea in the film. And got Eden Marryshow to do the narration.
I filmed the narration in Eden's apartment one evening. It's the second time I've worked with Eden. As a side note, he's one of the best actors I've worked with, and I think he's going to be a huge name in the years to come.
As for the visuals you see – we filmed them in two days. Actually, more like a day and a half. Just me, a camera, Chelsea and her suitcase full of clothes.
We ran around New York capturing a whole relationship — the beginning, the romance, the silliness, the moodiness, the break-up. We tried to capture all of everything in under two days.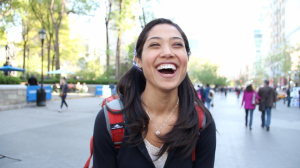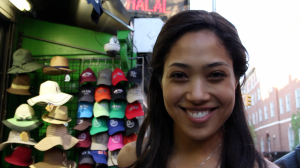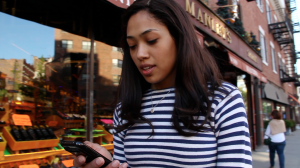 And then just like the characters in the film, I had to leave.
I returned to London and got down to editing.
I contacted David Wittman, my favourite Hollywood composer, asking if he had any music we could use in the film. There's something about what he does, it evokes a certain feeling, a certain emotion, that is PRECISELY what this film needed. Wittman cooked something up for us, and I am really proud to have his music scoring this short film.
We shot the whole film in two days (production and narration). No crew and no budget. Just me, Chelsea, Eden and David. The festivals have rejected us time and again, but I can't help but be really proud of this project.
At the end of the film, the characters return to New York City, which is exactly what I plan to do.
Here's the film:
If you like this, would you mind sharing it?