Acting SHOWREELS FROM SCRATCH – Written, Filmed & Edited in London
Here is where I'll explain the whole process from beginning to end. I am not a 'showreel service' like many of those out there. I am a writer/director/editor; with over ten years experience in the industry. I am actively producing my own projects consistently (like my web-series 'Sally the Life Coach'). As well as that; I create showreel content for actors.
To give you a taster of what I do, here is a reel of my reels.
Getting acting roles in the industry is, of course, hard. Getting any role is hard, as all of you actors will know. Getting the roles you really want, is even harder.
That's where I come in. If you're just starting out, or maybe you're just out of drama school, I write scenes for you that capture all that fresh talent which you've not had the opportunity to showcase; yet. A showreel can get you seen by directors who are casting, it can get you the foot in the door with an agent.
Or if you're already an experienced actor; I can help shift your image; show people that you can do something different to what everyone expects of you. Maybe you're stuck in comedy when you want to be in serious dramas. Maybe you're stuck in serious dramas when you desperately want to make people laugh.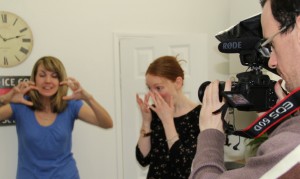 Why work with me?
Because I love doing this! This isn't one of those services where you roll in for ten minutes in a dull cold studio and action is yelled. This is a personal service that I am proud of. I will write scenes that are PERFECT for you. Either using actors you know or actors I access who want to be in fresh scenes; we put together great material.
Here are some more examples of scenes I've written, directed and edited for showreels.
The full showreel service is called 'The Full Monty' – it costs £550. For that you get three scenes and a full showreel edit. I have a few other packages – full details of costings and what you get for your money you spend can be found
HERE
.
Custom made to suit you.
The important thing is that a reel is unique to you. Each performer is different. The industry will often try to pigeonhole you, 'The Pretty Blonde', 'The Evil Foreign Guy', 'The Sensitive Best Friend'. I try to both support that (to show you can do it) and break you free from it (by doing other scenes which show your versatility).
If you already have lots of footage and you only want a scene or two added to your reel — we can do that too, whatever works!
I think what makes a good showreel is simplicity. It's not about fireworks, it's about believable performances. Scenes where your characters get involved in the conflicts we face in life – I think it's better to show you with a pinch of realism and subtlety than over-the-top soap-operatic acting!
Here's a recent interview with me about reels.
What are you waiting for? I sincerely believe I can help you as an actor. I am experienced writing for actors of all ages, genders and styles; and I am confident I can direct you, in some great scenes, that will help you get noticed. Rather than wait around for two years for a film school student to maybe some day give you footage from that film you did; let's shoot something new right now, and let's have it on your brand new showreel ready to release within a week.
Thanks,
Daniel
Email me: dj@danieljohnsonfilms.co.uk —- Tweet Me: @danieljohnsonuk
FURTHER READING: 
11 Tips For A Memorable Acting Showreel
Why Your Acting Showreel Is NOT The Place To Show Versatility
If you like this, would you mind sharing it?